General Information and Research Resources
Exceptionally Useful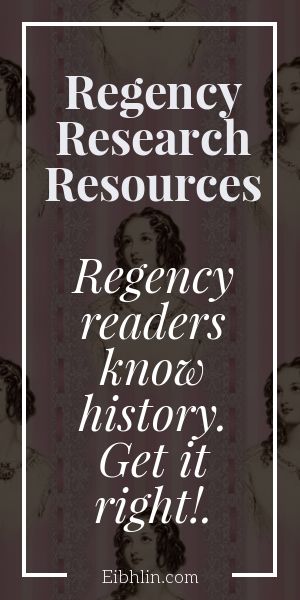 The Republic of Pemberley – One of the largest and most respected of its kind.
The 18th-Century Common – Tremendous information, plus links to sites like What Jane Saw.
English Historical Fiction Authors – Regency topics – some duplication at Random Bits of Fascination – key topics for regency romance authors.
General Regency Resource Lists, Mostly Links

Kristen Koster's Regency Resources
Jane Austen's World links – A long and wonderful list, of varying use to authors.
Regency Era Research, by Michele Sinclair
Research Resources for Various Regency Topics
Victoriana magazine – Regency Era – Includes gloriously illustrated articles about fashions, transport, gardens, and more.
The Regency Reference Book, by Emily Hendrickson – Parts of the Thesaurus and the Introduction are online. (Buy your copy here.)
Pinterest: Everything Regency England, by Nancy S. Goodman.
All Things Georgian – Superb scans & photos for a visual understanding of the time.
The Duchess of Devonshire's Gossip Guide to the 18th Century – Despite the name, it also includes Regency insights.
The Regency Redingote – Excellent for researching trivia of the period.
Slang (1823 book) – Great words, phrases, and their definitions, including insights about Regency culture.
Daily Life in Regency Times
Titles (how to address people)
See my article, Regency Titles and Inheritance for a list of resources.
Or, if all you need is a quick reference, see Regency Manor – Terms of Address [PDF]
Culture, Speech, Manners, Social Life
Social Customs During (Jane Austen's World)
Instances of ILL MANNERS, to be avoided…
A Review of the State of (London) Society in 1807 and much more at Lesley-Anne McLeod's site.
Austen Thesaurus – A few good words can go a very long way.
A Jane Austen Encyclopedia – Several pages with great illustrations, at Google Books.
Clothing

Jessamyn's Regency Costume Companion
19th Century Fashions – 1800 – 1820 (at the moment, only available at the Wayback Machine)
Pinterest: Regency Sheer Overdress – Regency Clothes – Regency Era Fashions – Regency Black Dress (mourning, etc.) – 1810s Evenings – Abiti d'epoca (1800 – 1815) – Men's Regency Fashions
Jane Austen's World – Regency Fashions: The Muslin and Net Period – Illustrated article with myriad, useful links.
Beauty and Personal Care
Regency Ramble: Regency Beauty – Includes recipe for "red lip pomade" (butter, wax, currants, and alkanna tictoria).
Downstairs
Mrs. Beeton's books were from the Victorian era. Nevertheless, they provide useful insights about housekeeping and cookery.
Character Backgrounds
Titles and Inheritance (legal)

Creation and Inheritance of the Peerage (Debrett's)
Peerage of England (prior to the 1707 Act of Union) – Truly established titles, best for use as peripheral characters.
Peerage of Great Britain (1708 – 1800) – Still quite respectable in the Regency, also best as peripheral characters.
Follow links on that Great Britain page to topics such as the complete list of marquessates. For foreign dignitaries & titles, see the Lists of nobility
UK peerage creations: 1801 – 2009 – A massive, alphabetical list of titles and dates. Especially useful for fictional characters, by altering letters in the name, or creating a mash-up of two or more.
Also see my repost of Jo Beverley's Regency Titles and Inheritance. (Jo was one of the funniest Regency writers, ever. And one of the brightest. I always looked forward to RWA conferences when I knew she'd be there. Read some of her Regencies, and you'll see why.)
English Lordships & Baronies [Wayback Machine]- Clarifying some often-misunderstood details. Includes this point, "…these titles are legal and enforced with the courts of the United Kingdom because they were not peerage, but tied to property law."
Myth busting: inheritance laws in the Regency Era
The Regency Estate: How it was apportioned – Great resource if you want to know what was typical, when the titled/moneyed ancestor passed on.
Feudal Baronies and Manorial Lordships – Basically, Scottish v. English Baronies, explained within history. [PDF]
For place names (to use in titles), see my Places list, below.
Money and Income
Historical Context of Pride and Prejudice – Darcy's income of "10,000 a year" was probably between $300k and $800k/year.
People with Secrets
AustenProse – Regency Spies: Secret Histories… , ideal for adding some dash and intrigue to your characters or plots.
Servants and Staff
Victorian London – Professions – Housemaids – One of many useful pages at that site. The early Victorian era had much in common with Regency times. However, some of the most iconic "Victorian Era" years were well after the Regency; in terms of imagery, many people think in "Victorian" means the 1880s and 90s.
Places in Regency England
Locations (real and imaginary)
The DiCamillo Companion – See real country houses in England and Ireland.
Jane Austen Places – Photos of actual locations, so you can create authentic descriptions.
English village name generator – Useful for creating placenames and titles.
List of generic forms in place names (Wikipedia) – Mix & match portions of names to create a unique location or title, or both.
Domesday Book Online, Place Names – Similar to the Wikipedia list, but by origin
Name generators – Fantasy town name generator (English towns) – English village name generator (points to this link)
Related History
Jane Austen – life & times
The Jane Austen Centre (Bath, England) – Free membership and useful resources.
Four Georges Archives [Wayback Machine] – A few influences on Austen and the Regency world.
For Austen-ish Fiction
A Calendar for Pride and Prejudice – Extensive character, place, and background details that could help a P&P-related story seem plausible. Scroll down to the blocks on coloured backgrounds. (Was at www.jimandellen.org/austen/p&p.calendar.html – site listed as dangerous/hacked in Nov 2017)
More calendars at that site – Calendars for Jane Austen's Novels (Was at http://www.jimandellen.org/austen/emcalendars.html – URL listed as dangerous, per Google, in Nov 2017)
Etc
A Jane Austen font, based on her handwriting (free download).
The Jane Austen Manifesto – How we can save the world by writing like Austen – Amusing.
And, a virtual paper doll you can dress and undress. It's a man. http://savivi.deviantart.com/art/Regency-Hero-Dress-Up-Doll-101669291