The number one question people ask me – aside from "How can I get published and become fabulously rich and famous?" – is about book covers.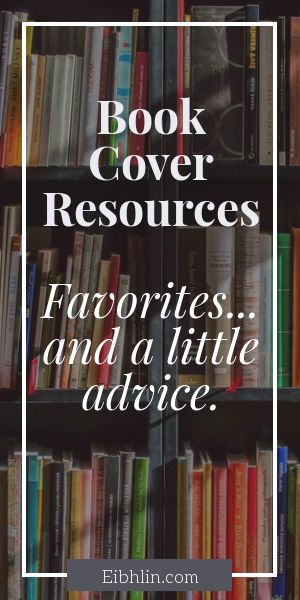 The fact is, book covers can be a make-or-break deal. Generally, the more money you spend, the better your cover will be… and the more books you'll sell.
That doesn't mean you should take out your credit card and max it for a gorgeous book cover.
In fact, no one should go deeply in debt for a book cover. Ever.
See, the problem is: book cover styles trend. The cover you buy right now…? In six months, you may see reviewers snarking about your "dated" cover design.  Or worse, they'll say it looks amateurish.
I know, it's painful.
If you're on a limited budget, start with what you can afford, comfortably. Then, when your book is selling well, set aside money for a better/fresher book cover. (Really, for your first year or two, plan to reinvest all of your profits in improvements: better editing, better book covers, better advertising, and so on.)
The following book cover resource recommendations are among my favorites, especially for indie authors on a shoestring. (I first published this list at my /writing site, several years ago, and updated it when I merged sites late in 2018. If you find a broken link or a bad recommendation, let me know.)
First, see what competing book covers look like. Go to Yasiv.com  and type in the genre/category, or a title of a book that's like yours. Then try another category or book title, similar to yours.
Take notes. See what leaps off the screen as things the most successful books share. Think in terms of colors, fonts, cover layouts, and illustrations.
Is everything centered on the cover, or all on one side? Or, is the design sort of a Z or a reverse Z? Or did they get creative and put the text in a circle, half-circle, or wavy line?
If there's an image on the cover, how much space is around it?
If people are on the cover, are they looking at each other or looking out from the cover, as if staring at the reader? Do you see their full bodies, head to toe, or just part of them, maybe from the waist up?
Where is the author's name, and how large is it, compared with the lettering in the title and – if there is one – the subtitle?
Then, see the best (and a few not-exactly-best) covers, with notes by Joel Friedlander: The Book Designer: Cover Design Archives. I'm on his mailing list so I never miss his latest advice. I also buy his templates to make my book interiors look far better. (Note: Those aren't affiliate links. I'm not paid to rave about him… or anyone.)
MOST IMPORTANT: Your cover should assure readers they'll get the kind of book they expect. If it's a sci-fi novel, don't make the cover look like a romance novel, even if you're including a romantic subplot. If it's a cozy mystery, avoid blood & gore on the cover.
After you've made some decisions about what you'd like on your cover, consider your designer options. They'll vary with your graphic skills and your budget.
The following list starts at the lowest possible budget, and gradually increases in price.
Book Cover Resources for Indies
1) Make your own. (Free – or free-ish – software: Canva, Gimp, others. Paid: Photoshop, others.) I use Photoshop, but I've been working with graphics for decades. (If you make your own, I love the free cover size templates from Bookow.com – https://www.bookow.com/resources.php#createspace-cover-template-generator – I think they're better than some of CreateSpace's cover-size templates. Just remember to keep everything 300 dpi and export as a PDF.)
For romance cover photos, many of us use PeriodImages.com (https://www.periodimages.com/-/galleries ) Just keep in mind they'll sell the same photos, over & over again. So, it's key to use lots of different elements on your covers, so the "oh, it's him again" reaction isn't a problem. Your books must look unique.
For the best fonts by genre, see these resources: http://www.creativindie.com/tag/best-print-fonts/  and  http://inspiredcoverdesigns.com/the-best-fonts-to-use-on-a-book-cover-by-genre/
One of my favorite font cheatsheets is: https://imgur.com/1CdzX60 , but you'll find lots more online. Just search for something like "font combining." There are Pinterest boards dedicated to that topic.
For book interiors – important if you're publishing a printed book – this can be a good cheatsheet: https://dotted-design.com/blog/2017/01/11/current-favorite-google-font-pairings . I love Google's free fonts.
For even more free fonts you can use legally on your book covers, check out FontSquirrel.com
2) Use KDP's free cover design software. Pro: Easy to use. Con: Far too easy to turn out a boring cover and not realize it.
3) Hire someone at Fiverr to make a cover for you. I've hired "vikncharlie" and really like her work. Friends recommend "germancreative" and "oliviaprodesign." You can get good covers for $5, but expect to pay at least $25 for a nice, custom cover.
4) Buy a premade cover. I've used https://thebookcoverdesigner.com/product-category/premade-book-covers/ Sometimes, they have good deals in the $50-and-less range.
Depending on what you're writing, lots of friends love: https://www.goonwrite.com/
For those with deep-ish pockets, Damonza gets great reviews – https://damonza.com/predesigned-ebook-covers/
Or, you can get really spendy (worth it, if you're earning 5-figures/month from your books) with something like https://99designs.com/book-cover-design (At least two friends of mine swear by 99Designs.)
AuthorMarketingClub offers a wide range of prices, from low to high. Click through to see which you like. Some are far better than others.
If you can recommend other resources, let me know. Leave a comment. Thanks!