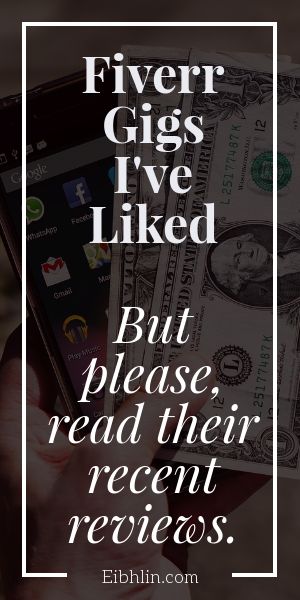 This list is NOT current. In fact, it looks like I created it in 2015.
So, some/most of these links may not work. (And I'll try to make time to update them. Really.)
Meanwhile, here they are.
BOOK COVERS
vikncharlie is the most reliable cover designer I've found at Fiverr. She uses cover graphics that are legal – you won't get any scary demands for payment from Getty, etc.
Also, though you'll do fine with her lowest-priced gigs, I usually expect to pay her at least $35 for something spectacular.  (I have no idea how she can work for such low fees.)
MARKETING GIGS
(bknights is always popular. If you can only afford one, one of his/her gigs is usually the best option.)
https://www.fiverr.com/bknights/submit-your-free-kindle-book-to-the-15-best-kindle-promotion-sites
https://www.fiverr.com/tucsonsarah/promote-your-ebook-to-620-uk-kindle-readers
https://www.fiverr.com/cwilgus/promotr-your-kindle-book-link-on-face-book-to-my-page-with-over-5000-fans
https://www.fiverr.com/lovebooks74/promote-your-ebook-to-1k-kindle-readers
https://www.fiverr.com/facebooklikes55/promote-your-kindle-book-on-10000-fb-kindle-readerstweets-and-post-2-review
https://www.fiverr.com/bknights/promote-and-market-your-self-published-kindle-book-to-4800-active-kindle-readers-on-my-facebook-page-during-your-promo-or-marketing-period
https://www.fiverr.com/marketing_ebook/promote-your-kindle-ebook-on-the-kindle-owners-association-community-page-with-close-to-10000-fans-as-its-page-owner-on-facebook
https://www.fiverr.com/dreamtheanswer/guest-host-your-article-promoting-your-book?context=best_match&context_type=rating
https://www.fiverr.com/bookadvertiseme/promote-over-20000-twitter-loyal-followers-on-books-health-fashion-etsy-food